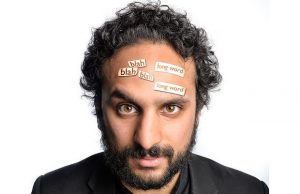 Nish Kumar.
Champion 'woke' comedian. Poster boy for the cunty, boring, permanently offended new comedy scene.
He recently flounded like a salmon seizuring, on Question Time. Go watch it's amazing.
Also he's responsible for The Mash Report which is a vomit inducing sack of steaming shit.
A quick cunting. But none the less vital!
Good day chums.
Nominated by Cuntoxed
Nish Kumar (addendum to Cuntoxed's nomination)
If I'm not mistaken, this is the plitically correct, faeces-tinted comedian who went fucking ballistic because someone got his surname incorrect. Apparently it was the personification of racial hatred – please read this shit-laden column from him if you can stomach it:
https://www.theguardian.com/uk-news/2018/dec/03/my-name-is-nish-kumar-so-please-stop-calling-me-nish-patel
He's been dining on this for months, and it seems to have secured him more work than ever. It matters not that he is about as funny as advanced stages of rabies; certainly not to the Al-BBC in any case. His anger at 'unconscious bias' due to ONCE being called 'Nish Patel' just makes him even more of a cunt than he appears.
Talking of unconscious, life would be that bit more tolerable if this cunt fell into a 35 year coma. I wonder if he would be as upset as being Nish Kuntmar?
Nominated by The Empire Cunts Back