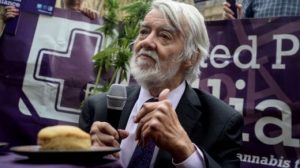 A gentle, RIP cunting please, for those "honourable" members of parliament who really do feel they are a special case and the usual rules of employment don't apply to them.
These thoughts are bought on by the death yesterday of 84 year old Labour MP, Paul Flynn, who, by his own admission, had been bedridden for some months. He has been described as a "principled" man, yet it seems his principles didn't stop him from claiming his £77,000 a year to do a job he was apparently physically incapable of doing.
Mr Flynn is by no means alone in continuing to get paid for political work long after he was incapable of doing it – so many MPs of all parties seem to keep their seats only to expire "after a long illness".
Mr. Flynn was going to stand down when "the time was right" and he was a Remainer who wanted a second referendum. Sadly, like so many of them he believed rules were for other people.
Nominated by W. C. Boggs