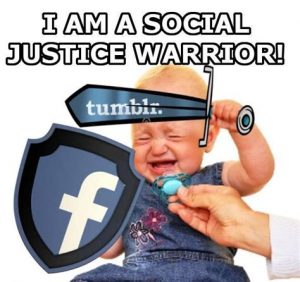 Social Justice Warriors.
Social Justice Wankers. What a tedious, shrill bunch of obsessive drones they are. You'll no doubt have met one or two of these perpetually offended paragons of virtue in your time, or at least followed their nasty antics in the meeja.
You know the type. They espouse a radical ideology founded in identity politics and their notion of 'victimhood'. According to their warped mindset just about anyone in society can be identified as a 'victim', as being 'oppressed'; gays, women, transgenders, ethnic minorities… Who's actually 'the oppressor' then? Well you've guessed it, it's white, heterosexual males.Yes white straights, you're 'privileged'.The perception of 'privilege' does indeed seem essential to the wanker mentality of intimidation. It's their big stick to beat you with, and they'll demand constant remorse and contrition from you as redress for this shameful state of affairs. Comply and you fall into the trap; for these cunts it's all about control of the agenda and control of YOU.
Don't waste your time trying to engage with these ideologues. You're either with them or you're against them, and there's no room for compromise. Conform to their rigid orthodoxy in thought and action or they'll come at you, and it'll be hard and mean. Failure to comply means that their Orwellian Newspeak will be coming your way. You'll be judged and found guilty of being 'phobic' against somebody or everybody. You'll have committed 'microaggressions', 'hate crime' or 'cultural appropriation'. They'll call you 'regressive' if you're troubled by the notion of 'gender fluidity' and can't be compelled to accept odd sounding personal pronouns. Defend your right to your own opinions and the freedom to express them and they'll shriek 'fascist' in your face.
Yes, SJWs are very determined shriekers. They'll scweam and scweam and stamp their little feet for all they're worth in order to shout you down. If they don't succeed they'll try to stop you from voicing an opinion at all, and they'll justify this with a piece of 'no platform for racists and fascists' sloganising.
The supreme irony where SJWs is concerned is that they embody the very traits that they purport to condemn. They're bigoted, dogmatic, irrational, authoritarian bullies who can't even comprehend that their demeanour alienates people and damages their own case. Next time one of these imbecilic loonies bristles at you to 'check your privilege' I suggest that you call them out on their bullshit. Laugh in their face and invite them to 'check their own smug condescension', then tell them to take their neo Marxist psychobabble and FUCK.RIGHT.OFF. Believe me, it'll trigger them into full on Owen Jones meltdown mode. Enjoy!!
Nominated by Ron Knee