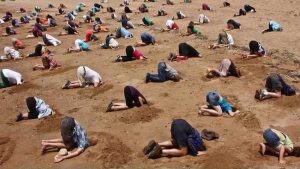 Nomination: Deluded Fucks.
Is it me or is the whole world (or just the internet) absolutely full of deluded fucks who see reality as they want it to be rather than how it actually is? I give you…
1/ Deluded fucks who think they are women when they have a Y-chromosome. When a person is suffering from anorexia, you don't play into their illness and shout 'put down the fork, tubby.' Yes, there are a small number of people who suffer from gender dysphoria but the amount of attention this issue receives is completely disproportionate to the number of (genuine) cases.
2/ Deluded fucks who think I should 'celebrate' their sex life. Fuck that. Even more deluded are the people who expect me to pay for their sex life.
3/ Deluded fucks who think supporting the brutal neoliberal international order erected since the mid 1970s is left-wing. The same deluded fucks who think a 300,000+ yearly increase in population has no effect on house prices. Demand and supply is racist!
4/ Deluded fucks who think the special circumstances of the second half of the eighteenth century that enabled a small group of rainy islands in the North Atlantic to become the world's leading power can be replicated in the twenty first century. Twats.
5/ Deluded fucks who love to slag off Judaism and Christianity but praise a younger and more aggressive version of the same bullshit 'religion.'
6/ Deluded fucks who think reading a book and disliking the contents is the same as hating the people who CHOOSE to follow the sordid teachings of that book (or, more likely, have those teachings imposed upon them).
7/ Deluded fucks who claim to be feminists and scream the place down about the 'injustices' suffered by multimillionaire (mostly white) Hollywood actress whilst ignoring the misogyny, FGM and forced marriage inflicted on (mostly nonwhite) women throughout the Middle East and South Asia.
8/ Deluded fucks who think an endless scrap over a worthless strip of desert on the eastern coast of the Mediterranean between two sets of religious fucktards is the most important geopolitical issue in the world today. To the mouth breathers obsessed with this non-issue, what about Abkhazia, Transnistria or the Sahrawi Republic? But then, most of them couldn't find the Isle of Wight if presented with a map of the world. (Please note: this is an endorsement of neither side in this dispute. I simply don't give a fuck).
9/ Deluded fucks who go on about 'international law' (an entirely fictitious concept) when going on about some refugees but switch to talking about 'morality' when the Refugee Convention of 1951 becomes inconvenient to their desire to rescue migrants on boats in the Channel.
And finally…
10/ Deluded fucks who think spending 20 minutes venting their spleen on the award-winning website ISAC will have any effect on anything.
Nominated by Cunt's Mate Cunt