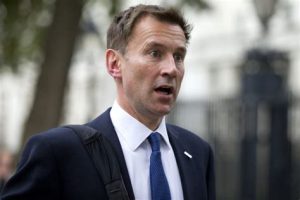 Jeremy Hunt
Hunt is a bit of a cunt, isn't he?
"The UK will prosper and flourish on a no-deal" he has said today (13/12).
Oh really? He's changed his mind a tad in the last two years, hasn't he? Why wasn't he this confident during the 2016 People's Vote, the Remainiac slug? What could possibly have driven him to capitulate ….I mean, to see the light after nuzzling on the Fourth Reich schlong for so long, to suddenly be so thoroughly pro-Britain and zealous about extricating ourselves from these bloodsucking gangsters? Hmm.
This transparent and flimsy attempt to garner support for a potential leadership bid is embarrassing. If it were a popularity contest, he'd be there down there with urine lolly-ices. Not since the days of Kenneth Clark has a Health Secretary been so disliked.
Hmm, actually, perhaps Jeremy Hunt (potential rhyming slang) HAS got the required qualifications. After all, creepy, ambitious, perfidious, disingenuous, manoeuvring, deceitful cunts do rather well.
Nominated by Captain Magnanimous