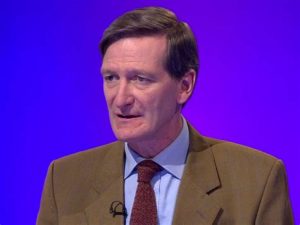 Dominic Grieve M.P.
A Blair-sized cunting fit for a queen please for this odious, oleaginous slimy heap of shit Dominic Charles Roberts Grieve, QC , aged 62 but with the body of a man of 95, and the truculent mind of a 12 year old girl.
Dom – or may I call him Charlie (and why *Robert* in the plural? – if it was Richard, then two dicks would be appropriate). Anyway Charlie, former Solicitor General (and no doubt pissed off his career has since sunk without trace thank god, has, poisonous toad that he is, made it impossible to get a No Deal Brexit, and has ingratiated himself so well with the remoaners even pansy Labour members are quite happy to lick his arse.
Beaconsfield Conservative Party should tell the inept old cunt to fuck off out of parliament, get his wig out again and go and suck the dicks of the High Court judges where his ugy face won't have to be seen daily in the papers and TV. What a motherfucker this senile old fool is.
Nominated by W. C. Boggs