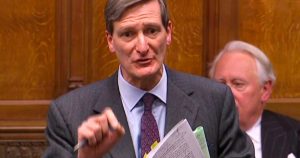 Dominic Grieve. I need to say very little and you will no doubt agree with me. His motion to give MP's a vote on what happens after Treason May's shitty deal gets voted out the door, basically has killed off any chance of no deal, in fact he's basically killed Brexit because the fucking snowflake cunts in the commons will vote to revoke article 50.
Democracy at it's finest, give you a vote, tell you that they'll honour the vote, completely fuck up negotiations, start to shirk at the mess they've made, plant a seed of retreat, continue to fuck up selling their shitty negotiated deal, throw their hands up in defeat and say sorry, pretend it never happened.
Fuck you Dominic Grieve and the rest of you twat, non democratic, lying, backstabbing, arsehole MP cunts.
Nominated by elboobio