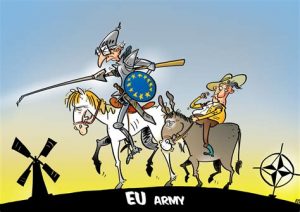 Touching tribute to Blighty's Fallen at Thiepval by May and Macron above? Fair play Old Mother May did the Old Contemptibles proud. Ram rod straight (except for the hunch), solemn measured pace despite the tottering kitten heels, respectful laying orf wreath, three paces back, a moment of prayer and respectful contemplation then turn and fuck orf oit the picture. Macron? Scampers up in heels higher than the Hunchback's, drops Tribute then turns back an scarpers towards nearest TV cameras.
Macron you pox raddled Froggie Cunt, you do not turn your back on The Fallen. It is simply not done even if your built up heels are higher than The Hunchback's. Appreciate it is French military custom to always to turn your back on the Enemy and run but not your dead Allies. Cunt.
Have looked for photos orf this gross liberty but all seemed to have now vanished and me butler cannot be arsed to do a screen capture from newsreel footage. Cunt.
The ultimate obscenity is that Macron and Merkel have used the sacred occasion and the publicity afforded by The Remembrance to come together to flog The EU Army.
Satisfying that little Napoleon has blotted his copybook with The Big Don and Trump has realised that La Belle France is not after all America's First Ally and champion orf Liberte, Egalite etc. In short Trump has called Macron's Grand Illusion orf The EU Army an insult. To give poor Blighty her due we have always opposed this ultimate expression orf Napoleonic Megalomania so why is Macron so determined to have it? He is fanning the flames orf an age old contempt orf things Anglo-Saxon and a love orf the corporatist state, indeed the basis orf the EU. France's economy is orn its uppers and taxed up to the hilt (hence recent French demos and riots) and Macron sees another cash cow to supplement the CAP as an earner in the creation of a War Machine built by France, backed by Germany and paid for by the rest orf the EU.
Armies require trained personnel in large numbers all following a common rule book. Where will they come from? Apart from France and briefly Blighty, the EU is composed of largely snowflake nations. Conscription – what about Human Rights? Plenty orf new immigrants with military training but might be a bit suspect in the old allegiance department. Former Eastern Europe? Plenty orf tough lads but not cheap, not anymore. Divert the NATO precept into the EU force? Not nearly enough hence Trump's bitching. Might just buy a coupla armed whelk stalls commanded by Frogs
Nominated by Sir Limply Stoke