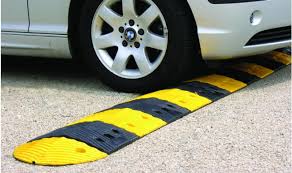 Speed bumps give me the right hump, the cunts.
Now I fully appreciate the original rationale behind putting these fucking miniature pyramids on urban roads; it was to 'calm' traffic, with the aim of reducing accidents and even saving lives. It was well meaning, right?
Well obviously I'm no expert on the subject, but I question whether they do achieve their goal to any significant extent, and I reckon that they may actually be more fucking trouble than they're worth. As far as I can see, self-styled 'real' drivers of the 'boy racer' (and increasingly 'girl racer') persuasion see them as a challenge rather than a deterrent, and hurtle across them as though they're on safari somewhere in a tank-like 4×4. On the other hand, your thoughtful, more responsible driver is mindful of the speed limit anyway, and if anything s/he probably finds the presence of these hulking obstructions every few yards to be a source of irritation and frustration, which might in turn lead to loss of concentration or even 'road rage'. I'd also bet that humps are a factor in channelling traffic away from roads where they're present onto those where they aren't, just moving the speed management issue elsewhere, and increasing congestion in the process. It's my view then that these lumps might not just be ineffective, but actually counter-productive.
In any case, any rational argument for speed bumps ultimately carries little weight with me. No, I readily admit that my loathing may seem pretty irrational; I just hate the personal discomfort that these cunts cause me. My Dacia is a sturdy little car, but let's face it, it's no BMW, and the suspension leaves, shall we say, something to be desired. Driving around my local suburban streets is like negotiating a bleeding obstacle course, and being constantly bumped up and down plays havoc with my aching back and joints (fuck knows what it does to the car). I can absolutely guarantee that I'll be in a lot worse mood when I get out than when I got in, and I'll bet I'm not the only one. Counter-productive, as I said.
If it was down to me, every one of these bastards would be ripped out tomorrow and consigned to the nearest landfill. Well, all bar one. This would be inserted up the arse of whoever came up with the idea in the first place, sideways.
Nominated by Ron Knee