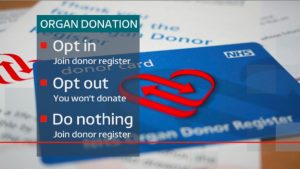 I'd like to cunt the organ donation register and their 'presumed consent'.
Before I get started, let me just state that of course I support the idea of saving children's lives etc etc. I'm certain it's all very worthy. However, how the fuck do they get dibs on my bits by default?
I am NOT happy.
I fail to understand the logic that states that unless I state otherwise my body will be plundered mercilessly. It's my body! Mine! Sure, I don't need those bits after I die – that's not the point – I suppose that I'm annoyed at the rude nature of this assumption.
I'm British. Manners come first. You may very well be dying but you can still say please and thank you.
I am also bitterly disappointed that I have no options with regard to the harvest or the recipients. It's all or nothing.
I do not support the idea that I work to pay taxes so that some people can spend their entire lives getting drunk, smoking, watching sky tv, dodging work and then when I die they get my organs as well? Talk about mind, body and soul. And what about evil cunts like george best getting two livers? That is well fucked up.
The system of presumed consent is in place in many countries, and does not yield consistent improvement in donorship. There are more factors than just whether or not you have organs going spare.
Anyway, I have put over my idea of selective donation to members of the transplant service and they were not impressed. No, not at all. The word "horrified" springs to mind.
I am getting the impression that wanting a say over what happens to my most treasured possession is a major no-no. I am also getting the impression that expressing my wishes aloud is putting me up there with the worst of humanity. Making me the most selfish of criminals.
The only way I can action any free will at all here, it would seem, is to deny everybody. That doesn't make sense to me.
What if I wanted to deny members of the KKK my organs? Is that morally wrong?
What about if I wanted to deny convicted rapists and murderers my organs? Surely that's ok?
People will say "fuck no, you can't do that! What's wrong with you? Where will it end?"
Where will it end? There is no end. If somebody wants to deny anyone their organs they already have that choice.
It would appear that there is a major problem singling people out. I don't understand it myself, but there you go.
This is probably going to turn into yet more proof that I am, indeed, a cunt.
Nominated by Cuntflap