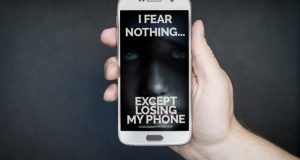 I don't have a mobile phone, nor do I want one. I've managed fine for 60 odd years without one, as has the human race since we first crawled out of our caves.
Still, they're here now, and here to stay. Many people see mobile phones as an absolute, indispensable necessity of modern day existence, an essential tool to help organise a hectic life, and I'm absolutely cool with that.
But believe it or not, some twats actually get anxiety and stress when they're parted from their little darling for even a short while, or have to switch it off. My goodness, however will they function if they're unplugged from the electronic universe? Oh God, the office will completely cease to function if I can't be reached for an hour! Jeez, how am I going to let all my Facebook followers know the riveting news that I'm currently in Starbucks, drinking my coffee?
Headshrinkers in America (where else?) have even come up with a fucking clinical term for the saps who experience this mental torment. It's called 'Cell Phone Withdrawal Syndrome'. In California, Snowflake Capital of the World, there are even mobile phone 'addiction clinics' where you can check in for 'desensitivity programming' or to 'get clean' in street parlance.
The saddest gits of all are those tossers who, when they can't get a signal, desperately extend an arm in the air and frantically wave their precious smartphone about. That's right you cocks; the additional couple of feet will enable you immediately to connect with the communications satellite orbiting approximately ten thousand miles above your head.
You couldn't make it up.
Nominated by Ron Knee
My little shits won't move from the bed without charge. I never had a cellphone until I was 23. Then I was mocked mercilessly for being a try-hard. Within weeks everyone had one and we were texting each other from one end of the dinner table to the other. Bit of harmless fun. We knew it was a novelty. We still had a phone connected to the wall and one fucking screen.
As I type this, every brat has a screen and a phone. The phone is connected to their hand and Fuck knows how they play Fortnite with the extra appendage, but they manage. And if I tell them to lose the screen time, they bitch about how awful a Mother I am. Cockheads, the lot of them but they run as a pack. They're all on the same page. Currently I have one son playing with a friend in Tahoe. His Avatar name is Deeznuts. This kid yells so loud I feel like I have another child in the house.
My son's Avatar is Lickmaballs. BTW
And half an hour ago, the oldest called me on his mobile to bring him a fucking towel!
A fucking towel! Called me from the other end of the House. Couldn't drip his way to the linen closet.
Nominated by CaliAngel