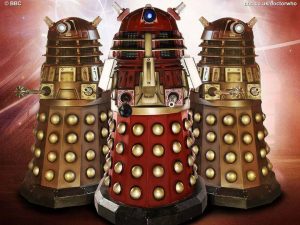 Daleks, fucking Daleks would you fucking believe it. Well in need of an Inter-Galatic Cunting.
When i was a kid I was always safe in the knowledge that if they really invaded earth I'd always be able to escape their evil intentions and their desire to 'exterminate' anything that threatened them or they didn't like by simply running up the stairs.
How wrong could I have been.
Yesterday I turned on the telly and can you believe it, right in front of me was what I must assume is the latest generation Dalek.
I was reminded of the Terminator 1 and 2 films and how the next generation was much more human like than its predecessor, T2 could experience pain and had 'feelings'.
Daleks have indeed come a long way. The T2 Dalek I watched was so advanced it could actually feel offended and victimised and has actually gone as far as reporting a politician for a hate crime.
Whatever will they think of next? Thought crime?
Nominated by CuntyMcCuntface
Daleks are fucking useless. How many times have they had the dead drop on the Doctor, it's a fair cop and bang to rights, without doing him on the spot? Naturally he'll duck out again at the first opportunity, and give the mardy arsed tin cans yet another right kicking up their metal arseholes.
Take over the universe? Yer 'aving a larf. They couldn't take the skin off a rice pudding.
PS. Cybermen are even more fucking useless than Daleks, and that's really saying something.
Nominated by Ron Knee