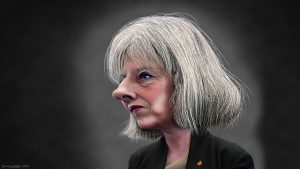 While I'm on the subject of Brexit saboteurs, I feel I should once again cunt Theresa 'The Appeaser' May. Her white paper on what SHE thought Brexit should be was a load of shite. Contrary to what she and her lackey's claimed, it did not, in any way keep faith with what the majority of the British electorate voted for in the referendum. She is an ignorant, arrogant, dithering, dictatorial twat, who only listens to those who tell her what she wants to hear.
Her latest act of twattery, has been to side line the newly promoted Brexit Secretary, Dominic Raab. It seems that after making a couple of pro-Brexit statements, May didn't like what she heard and has decided that from now on, as she did with David Davies, SHE and Oily Robbins will be negotiating with…sorry…capitulating…to the EU. To me, what's she's done is a public statement that she has no confidence that Raab will do what she wants. What makes it even worse, is that she didn't even have the decency to tell Raab to his face, in private. He only found out about it while he was in the middle of a select committee grilling.
If I were Raab, I would not have resigned immediately, I would have publicly told May that she could shove the job right up her arrogant arse, and announce that after the summer recess, I would not only be sending a letter of no confidence to the 1922 Committee, but that I would be devoting every waking hour to seeing her removed from Downing Street. As I've said before, May is as much a leader as I am an astronaut. Her refusal to carry out the will of the people, couple with incompetence, and her lies and attempts to fool the public, have rendered her unfit to hold the office of Prime Minister.
She has had TWO YEARS to get us out of the EU, and all she has to show for it is a white paper that I wouldn't even wipe my dog's arse on, never mind my own. What's even worse though, is that she has the audacity to claim that it keeps faith with what we voted for, when she knows full well that it doesn't.
Nominated by Quick Draw McGraw