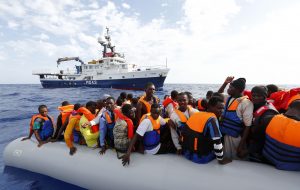 A monumental cunting for the NGOs, Charities or whatever the fuck they are that deliver migrants to Europe in rescue boats.
These stupid, do-gooding fucking idiots are aiding and abetting the people smugglers of North Africa. They are probably even putting the smuggler's prices and profits up by rescuing any boatload of unwanted vermin and guaranteeing them a crossing. The smuggler's boats can be even less seaworthy because they only have to clear the Libyan beaches to reach a vessel chartered by the charitable idiots.
These are mostly not war refugees. They are the dregs of Africa who will drag wherever they settle down to their level, as they have done worldwide.
Deny the charitable cunts port of entry anywhere in Europe and fuck them off back to their friends in Africa, the cunts.
Nominated by Cuntstable Cuntbubble
Am I missing something? Surely if the migrant rescue charities off the coast of Libya are there to save lives, they'd be returning the migrants to the nearest point of safety i.e. a beach in Libya.
Then the dozy cunts would have more time to pull a few more out of their sinking rubber dinghies. While they're fucking about trying to gain access to a port in Greece or Italy or Malta or Spain, there are twenty times more drowning in the Med.
Makes no fucking sense.
Nominated by Pedantic Cunt