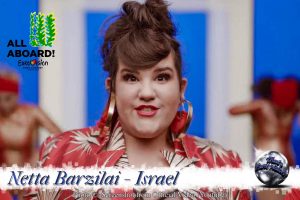 Dear cunters
What can I say but check out this total and utter CUNT. The story says it all. But what will be fucking worse is how every LGBTCUNT will be lapping this up.
Might as well get down the bookies and win yourself a few quid to take away the pain of the world fucking ending cos if the fucking right on snowflakes don't lap this up to see it's sorry arse to victory then fuck me.
http://www.bbc.co.uk/news/av/entertainment-arts-44073911/eurovision-2018-meet-the-israeli-singing-about-empowerment
#ordinarywhitebloke
Nominated by, Cuntsince1066
with a follow on by,Bolloxed up Britannia
A Right Cunting for Netta and Toy.
Never watched the Euro non-vision song contest last night. Was out at a club listening and dancing to some good ole rocknrole by a three piece, live band. Great night.
Got up late this afternoon and decided to see who won last night's Euro travesty, in the vain hope that a half decent song might have triumphed.
On screen, the winner, Netta immediately assaulted my senses and for one orrible moment I thought I was still in bed suffering from a beer induced, trance nightmare, but worse than that was the jolting realisation that I was awake and this ghastly vision was for real.
Netta an obese and hideous parody of mini-mouse mated to a puff ball Bjork, shrilled, leered and bounced across the screen backed by a bunch of bean flicking, rug munchers, all on about – – – what? Totally unintelligible vocals that I couldn't make sense of, so I had a look at the lyrics to this visual desecration. What a load of fucking virtue signalling insanity. I wont insult our good brethren and sisterdom here by repeating all of those mangled lyrics, that could have been penned by a schizoid, crack addict of thirteen, but here is one line,
"Look at me I'm a beautiful creature" !!! No, you are a fat Cunt with no musical ability that has jumped on the already creaking bandwagon of, right-on lovies.
Apparently the virtue signallers say that, – – – "on "Toy," Netta sings about the awakening of social justice and empowerment of all people".
No, its' a fat Cunt's extravagant whinge about how unfuckable she is and it's all a "silly boys" fault, for not loving her, period.