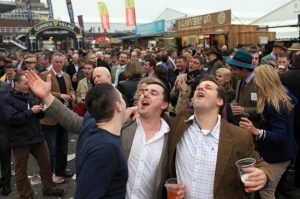 I'd like to Cunt wankers who attend the racing when they know Fuck-All about the sport.
I've noticed over the last few years that a certain type has started going to the races. Hen parties are the worst,a gaggle pf overweight,overlubricated tug-boats screaming and giggling in short dresses and high heels as they waddle between the bar and the burger van. I once saw them stand,like a herd of bison,as the "blushing bride" squatted in the middle of the huddle,pissing on the grass.
Stag-dos are nearly as bad, they tend to be a bunch of middle-management types (truly appalling folk) who shout about how their mate who is invariably a trainer,has given them the winner. Invariably,he hasn't. They then seem to think that shouting abuse at the jockeys as they come in is amusing. It fucking well isn't,you Cunts.
Then we get to fucking children,I once made the mistake of going on what was called "A family day"…it was dreadful,brats running about even in the dearest stand where I always go. I did consider giving one of the bastards a push under the rails as the horses came thundering past in an attempt to reenact the famous Suffragette moment,but the risk to the horses and jockeys was too great.
I'm sure that other sports must be suffering the same malaise,I know that rugby is,but apart from rugby and racing,I don't really care. Other sports can get fucked.
Nominated by Dick Fiddler