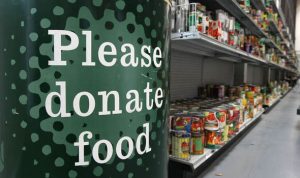 If spongers spent less of their benefits on tabs,phones,drink and tattoos,they wouldn't need go to food banks.
There's one in my area currently appealing for Easter eggs,,wtf? Why the fuck should some tubby pram-face be provided with free chocolate to stuff down it's greedy maw?
I've seen programmes where people go to these foodbanks…first they stand around outside,smoking and talking on their mobiles,before going in to be given bags of groceries. They then come out to sneer at any fresh vegetables or pasta or anything that may take preparation,before waddling with their squalling brats towards the nearest McDonalds.
Fuck them.
Nominated by Dick Fiddler