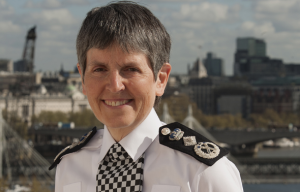 What can I say? She's a Dick.
Doubtless some will think "where have I heard that name before?" and recall that it was linked to the total balls made by the Met and its specialist teams over the false identification as an active terrorist and the subsequent surveillance and Ramboesque slaughter orf the innocent Jean Charles de Menedez in a tube train at Stockwell. Whoops.
No harm done though because Cressida kept her plum and nicely diverse job and went on to become Commissioner of the Metropolitan Police despite the anguish, incompetence and callous treatment inflicted upon the Menendez family which whipped up a whirlwind orf criticism across politics and the media. Exonerated of blame by a police enquiry, head down, Carry On Cressida.
Thus London is proud to still have her in post to defend the Smoke against the rapidly rising tide orf knife and gun murders orf colour (and I do not just mean the deluge orf crimson drenching the young victims and pavements) in the Capital. Doubtless you will further recall a previous post by Yours Truly listing the names orf victims from a previous carve up which appeared to feature none orf white ethnicity. Embarrassing.
Since then bugger all seems to have been done by Ms Dick about it except a little scattering orf Snowflakes and protestations that it is all doine to society and "de yoot is disenfranchised and ain't got nuttin' to do" except try to kill each other. Accept it is all my fault, again, as an old white cunt but a little confused at the experts orf colour popping up orn telly now demanding a return to 'Stop and Search' as maligned by the PC brigade for years – providing it is part orf a holistic approach and is seen as one tool from a toolbox orf other measures including cuddly toys for all and tea lights in every crack den. Oooomm.
I reckon at least six more carve ups have taken place in the Smoke since YT started this missive. Personally YT believes it is all doine to the extra hour orf daylight (de yoot need plenty orf light for a good drive by) so roll orn the long hot days orf summer. PS whatever happened to the acid attacks? Fickle yoot fashion. Stop and Search T shirts?
Nominated by Sir Limply Stoke