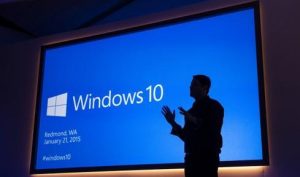 The deplorable fucking mess that is Windows 10, 'given out' for free from old Philanthropist Bill Gates, to force the masses to adopt Windows 10, taking peoples retails keys and exchanging them for oem, yes, when you upgrade your system your key will no longer work.
With Windows 10 you don't need to worry about getting malware any more, you already have the most data thirsty malware ever created.
Windows is not so much an operating system as it is a fucking service, a service that tracks every thing, every file, every keystroke, every email, every website, every search and so on.
like that nosy neighbour next door who has to come and see what you are doing every time you go in to the garden, Windows 10 is there hoovering up everything.
It is a front-end for the mighty fucking app store, a way to get you to buy an app to do something that Windows 7 did for free.
I never took 'advantage' of the free upgrade, I could see it for what it was, a power grab over to Microsofts new model, harvest all the data, sell it and get mug punters to buy endless apps.
So now Windows 7 has essentially been destroyed by Spectre & Meltdown I had to upgrade to Windows 10. (I have software and hardware that requires Windows FFS)
So did I go out and spend £100 to let Microsoft steal all my data? Did I fuck, I pirated Windows 10 Enterprise which does not have apps, cortana, tracking, onedrive (cloud), forced updates every day and you can actually disable 95% of their data harvesting.
So thank you Bill Gates for my free copy of Enterprise LTSB 1607, I pirated Win98 and Winxp but actually paid for win7 as it was only £40. But fucked if I am paying £100 for Windows 10 home or £140 for Windows 10 pro when you are harvesting that much data and have full control of the system.
Fucking jog on Gates, you speccy twat
Nominated by Steve Jobs corpse