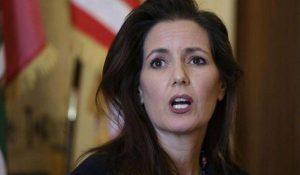 From the Land of the Libs and the Home of the Tards comes another installment of Cunts Across the Pond. This week starring Libtard Democunt Mayor of Oakland, California…Libby Schaaf.
Illegal immigrants are a real hot point issue in the US. President Trump has ordered ICE (Immigration and Customs Enforcement) to enforce existing deportation laws.
So, much to the horror of the illegals and the libtards who support and empower them, ICE has in fact been deporting them.
The Democuntic Party has decided to thwart these efforts at enforcing the law by refusing to cooperate with Federal Law Enforcement Agencies and passing state laws declaring their cities and towns places of Sanctuary.
Last weekend, Libby Schaaf, performed an unprecedented act of cuntitude. Through sources she won't reveal…she got advance notice of an ICE raid to be conducted in Northern California. This fucking cunt took to the airwaves and social media and issued a "public service warning" that a round up was imminent.
As a result ICE was able to arrest about 230 illegals…many of them convicted felons or under a previous order of deportation. However, due to the cunts warning, over 800 were able to hide or flee and thereby avoid arrest and deportation.
Citizens across the States are outraged and have been condemning the cunt…according to some sources…by a margin of 10 to 1. However, the cunt is not apologetic. She issued a self serving, sanctimonious statement saying she just wanted to give the illegal cunts time to tend to their affairs and say good bye to their families and loved ones. If they ran…hey that's not her fault.
State and federal law interaction is complicated here in the states, but cooperation is the norm. This however, is open rebellion. Schaaf herself has openly said she is proud to be part of the rebellion and will go to jail to protect Oakland's status as a sanctuary city.
I hope she does. The Feds are looking into the possibility of charges against her but as I said the relationship between state and federal law is complicated and I wouldn't expect any serious charges against her. (But one can always hope.)
Oakland is a shithole. It will stay a shithole as long as they elect cunts like Libby Schaaf to political office. So needless to say…
I proudly cunt Libby Schaaf.
Nominated by General Cunster