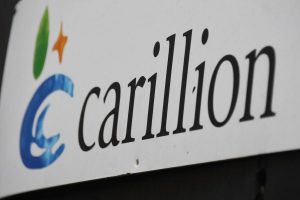 Carillion, the unscruplous granny-selling cuntractors, are mastodon-size cunts, right down to the last employee.
I'm delighted to see one of these firms go to the wall. For years now, the whole notion of contracting everything out to bodies of bastardry like Serco, Carillion, G4S and any other rip-off merchant you can mention has helped effectively ring-fence taxpayer's money on nothing but contractor mistakes and strategically planned 'variations' – effectively extra money because of caveats excluding certain elements in a project, buried under a ton of contract documents too impenetrable for government project managers to handle – thereby fleecing hospitals, schools, highways, utilities…. you name it.
Now these shitcunts cry for help from the government because they, despite loads of high profile contracts, still managed to fuck up. I note the bosses have secured gold plated wank flannels though – of course they won't suffer.
I despise contracting firms with a fucking passion. My only sadness here is that more of them don't go fucking bust.
Brick-chewing, estuary-vowelled, pencil-in-ear whistling cuntfucks.
Nominated by The Empire Cunts Back