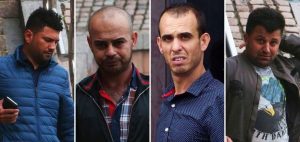 Emergency cunting for the Newcastle Grooming Gang, convicted of the trafficking and sexual exploitation of schoolgirls between the ages of 13 and 16, in a reign of terror that lasted for an astonishing seven years.
Oh – and what a fucking surprise: they just happen to be Kurdish immigrants exclusively preying on white British girls. Yet another case of "misogyny" then since we're repeatedly told by the PC brigade that despicable crimes like this are definitely nothing to do with race.
These nonce cunts need dousing in petrol and setting alight – four real live Guys on  Bonfire Night: Palla Pour, Ribas Asad, Soran Azizi and Saman Obaid. In fact one of their defence counsels should be cunted as well for offering in mitigation the fact that the defendants had problems with alcohol on account of being so worried about the fate of their relatives in Iraq. Very plausible indeed – . I'm sure we all know people who deal with stress and anxiety by getting drunk and raping a fourteen year old…
Nominated by Fred West.