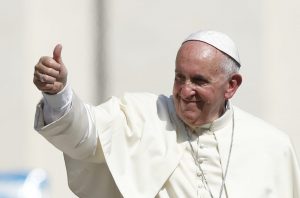 Pope Francis is a ridiculous Cunt.
God's Representative on Earth, The Bishop of Rome has warned followers of his Cult not to be influenced by "horoscopes and fortune-tellers",but to believe implicitly in the Word of God,as reported by his religion. He uses some bizarre tale about Jesus walking on water to prove his point about how true belief is the only Path.
What a detestable,corrupt charlatan the old bastard is. Although I have no belief in horoscopes and the like,I don't think that they'll have caused a fraction of the pain and suffering that his religion has perpetrated over the Ages. Urging people to blindly follow the instructions of a discredited book of fairy-tales is no better than any other Cult's instruction to always "Trust the Leader".
The evil, duplicitous Magician should be treated with the same contempt as any other "Religious Extremist" who preaches hate and hides their inherent wickedness behind a load of Mumbo-Jumbo that even an opium-ridden, Lewis Carroll would have struggled to imagine.
Hurry up,and meet your Maker. I'd be interested to know the Judgement that his God hands down on him and his acolytes. Poisonous Cunts,the fucking lot of them.
Nominated by Dick Fiddler