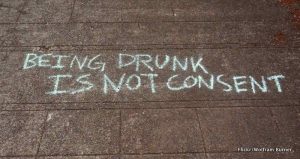 Time to nominate university sexual consent workshops for a non-PC cunting.
Read this wank
this morning – but probably shouldn't have because I was already pissed off after waking up and seeing that fucking Ipswich had lost at home. (Fucking four goals in ten games – fucking overpaid ponces.)
This article is absolutely full to the brim of bollocks and crappy Newspeak – it's hard to know where to begin the cunting.
This whole bollocks about consent at university seems to show an extremely old-fashioned attitude towards sex – that's it is something men do TO women rather than WITH them, hence the need for explicit consent. Newsflash you twats, women like sex too, though perhaps not with lentil-eating fuckwits who support this bollocks. The idea that women need protecting from nasty men is Victorian crap. As I said, women like sex too and sometimes they make mistakes and sleep with the wrong person. Regretting a drunken shag is not the same as being raped – and to say it is demeans and belittles the experience of actual rape victims.
Universities seem to be absolutely rammed full of these po-faced twats these days. When I was at university – admittedly 25+ years ago – the wimmin's society was annoying but easy to ignore. Now it seems you can't even ask a girl out on a date without filling out a form in triplicate unless you want to get accused of harassment. Fuck me ragged.
And just so I don't get accused of sexism (unlikely on this forum, I think) I'd like to point out that the wimmin's society were not the most annoying twats at my university. That trophy goes hands down to the rugby club faggots whose boorish antics in the union bar, homoerotic initiation rituals and all round cuntitude was off the scale. Most of them were so far in the closet that they had their digs in Narnia. Grabbing each other's balls on the pitch and accusing all non-rugger buggers of being gay – methinks the benders protest too much. Cunts.
Nominated by: Cunt's Mate Cunt