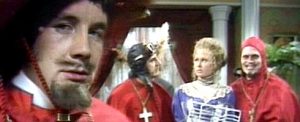 Spaniards. Fucking inbred, lazy, feckless, peasant cunts. Try and get something done there and you are beating your head against a brick wall. The country is in dire economic circumstances, and yet the lazy scum still have to go off for a nap in the afternoon. But they are right on the ball when it comes to sticking their hands out for EU dosh. Oh, yes sir, front of the queue then.
Don't get me wrong, Spain is a good place to go on holiday, only a 2 1/2 hour flight, cheap, good weather, plenty of history and culture if that is your thing, beaches if it isn't, cheap, great nightlife, cheap and cheap.
Just don't even think about going to live there. As with most of abroad, its OK but its spoiled by the fucking foreigners. And learn to speak English! Cunts.
Nominated by: Skidmark Eggfart