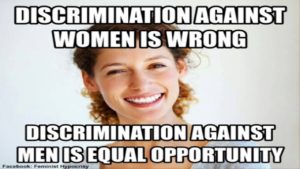 Fuck the Feminazi…. They'd soon shut up if there was a repeat of World War II… Then again, probably not… The squawking cunts would probably sneer about 'typical men fighting with other typical men…'
They wouldn't let fascism, death camps, genocide and blitzkrieg get in the way of their petty little 'issues' and vendettas…
And Germaine Greer can fuck off and all…
Nominated by: Norman
Girls are 35% more likely to go to university than boys. Education, like politics, the law and the media has become so feminised that men are losing out big time.
Feminism is killing western society. Women have been convinced they are victims and that they should want a career instead of doing what they are good at and raising families. What is wrong with raising a family? It is the single most important role a person can do.
But no. Feminist have told women they are a failure if they don't get to be a CEO by the time they are 40. This has led to a reduction in the birth rate which has led in turn to mass imigration to boost numbers to support the ponzi scheme which is the wellfare state ( another result of feminisation of society )
No wonder men are walking away from the whole fucking mess.
Nominated by: Skidmark Eggfart