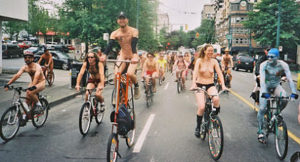 Cyclists are total and utter bell-ends. They seem to think that they own the bloody road,pedalling along in groups making overtaking virtually impossible. They jump red lights,ignore road signs and get quite snippy when you pull up in front of them to get out and explain to them what you think of their bellendery.
Well,you wannabe Bradley Wiggenses,you can all fuck off with your cunt-containing lycra, foreskin helmets and general total wanker attitude.
As for the prick who told me this morning that he had my" threatening behaviour" on camera,you're just lucky that you don't have a fucking good view of your lower digestive tract on camera.
Nominated by: Dick Fiddler
I fucking loathe the Lycra benders. They use the dual carriageway by me for time trials, the zoned out cunts. These pricks then think that the road, a busy main A road, is just for them, and traffic should give them all consideration and right of way. All these pricks care about is their time, so road positioning and indicating, or any of the rules of the road go out the fucking window, the riding four abreast cunts.
Pushbikes, especially those ridden by a pointy hatted, immac legged ponce, should not be allowed on a road where they have to compete with 70 mph traffic.
Team sky? Team cunt more like.
Nominated by: Gutstick Japseye