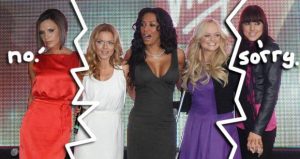 I'd also like to cunt and nominate those celebricunts who were fucking useless/wank in the first place. Piffle off into obscurity for 5yrs and then come back in some excruciating reunion piece of shite which follows the same fomula:
1. Meet up and pretend to be all awkward about it.
2. Make up and be bestest ever friends again ever.
3. Pretend to make some records (while you can hear the "Milli Vanilli" real singers in the background).
4. Couple of squabbles.
5. Go on CUNT-FACTOR with Simon Cowell.
6. Do 1/2doz sell out shows before the country realises: "No, you really were shite!".
7. Fade off into obscurity.
8. 5yrs later, goto 1.
Next in line is the Spice Girls but they're not sure if the queen of talentless celibricunts – Victoria Beckham – can make it. Yeah they'll miss that vocal range……..but, hang on girls, all is not lost! I could turn up with a kid's party balloon, blow it up but not tie it off and then let the air out slowly in that shrill squealing noise. That'd be a close enough approximation I'm sure.
I bet even that celebricunt with the "welly-top" fanny Mel B couldn't even tell the difference in her ubercelebricunt role as a judge of the next batch of celebricunts!
Nominated by: Rebel without a Cunt!