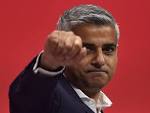 Khan was an utter cunt on that debate last night, basically calling anyone who didn't agree with his views either a racist or a 'hate monger'.
Here's a tip you muslim appeasing twat:
If you really want to 'stop hate', stop calling everyone a racist when you know damn well they're not. The hate is coming from YOU.
Ya cunt.
Nominated by: Bob Shmit
On holiday but sat through that shower of shit of a debate last night. Wish I hadn't. Sent the old blood pressure through the roof!
Khan was a fucking disgrace!
Just when you thought Remain couldn't sink lower they play the race card – and anyone who disagrees is shouted down and called a liar…
God help the UK if this lot win tomorrow and God help London with this cunt in charge!
Nominated by: Dioclese