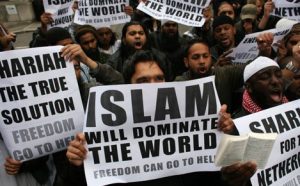 To celebrate the election of London's first Muslim Mayor, I'm nominating Muslims for a cunting….Again!
As most of you know, I really don't like Muslims. I don't trust the fuckers. They have no respect for anything or anyone that isn't involved with Islam. The cunts that live in the UK not only have NO intention of integrating into the wider community, they have NO loyalty to the UK. And they expect US to adapt to THEIR "culture", instead of vice versa. They also have no respect for the supremacy of British law in the UK, demanding, and being allowed, Sharia law. They are so corrupt and dishonest that it's almost genetic. They're less trustworthy than a starving lioness babysitting in a crèche.
On top of that, a disproportionate number of Muslim males seem to be obsessed with having sex with underage, non-Muslim girls. Especially when they have to force the girls into sex. They are completely intolerant of other faiths, with a particular contempt for atheists. They despise gays, to the point that they believe they should be murdered. They see women as little more than slaves, with one bunch of medieval cunts in Blackburn demanding that women be banned from travelling more than 48 miles from their house without a chaperone. Ignorant, bearded cocksuckers! And when you consider that some of their thick as shit women insist on doing their best impression of a bin bag when they go out, you'd be forgiven for thinking you were in Saudi (It's a shithole by the way).
I don't give a fuck what people think of me over this. I'm not racist, because Islam is not a race, it's made up of mental health cases of all races. I'm not an Islamophobe, because I don't have an irrational fear of Islam or Muslims. I just don't like the fuckers. I've spent time in Muslim countries and I've seen true Islam. It's most certainly not the "Religion of peace" that soppy left wing cunts keep trying to convince us it is. The thing is, if it actually WAS a religion of peace, we wouldn't need to be constantly told that it was. Muslims, and their religion, are not suitable for life in the Western world.
Come to think of it, they're not really suitable for life in the MODERN world.
Nominated by: Quick Draw McGraw