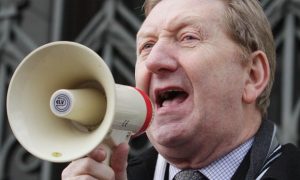 Unite's McCluskey is typical of the leftie bully boys that have taken over the Labour Party.
They've subverted the constituency Labour parties with left wing plants, bought Corbyn's election for £3 a head and now McCluskey is propping up a leader who can't even keep people in his shadow cabinet for 72 hours!
And the worst thing about this cunt is that he then has the barefaced bloody cheek to lecture us on democracy.
FFS! You couldn't make it up…
…but McCluskey seems to have managed it, the undemocratic hypocritical cunt.
Nominated by: Dioclese