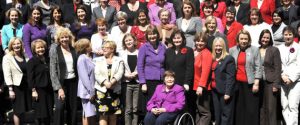 Female politicians really get on my nerves.
Naz Shah, Dianne Abbott, Baroness Warzi, Priti Patel, Kate Hoey and that cunt Nicki Morgan. All with a sense of indignation which translates into being a nagging, whiny voiced haranguer of anyone who'll listen. Pompous to the point of bursting they pontificate on everything. I fucking hate them with their enraging sense of entitlement.
They smugly sit on Radio 4 interviews or Question Time and preach their "Do what I say 'cos it's good for you" bollocks while avoiding any question that exposes their double standards by just continuing to talk and talk and talk in their nasal tones. They suck at the teat of the public purse and feather their nests while telling us that austerity is necessary. In it together? Not bloody likely.
They're middle-class harridans of the modern age and need bringing down a peg or two…The cunts.
Nominated by: Fleaboy