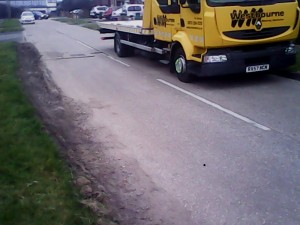 Cunts that run hookey businesses oit orf residential areas!
This one is personal. Not in me own back yard but in a quiet residential area I have occasion to frequent. This cunt runs a heavy trucking business oit orf some sequestered little roads where many pensioners live and young families with small children. Does the little bald fat bastard live there himself? Not on your life. Just uses it for safe free parking then fucks orf home every night in a BMW leaving behind parkland and grass verges turned into churned up mud by his various vehicles in adjacent roads. The cunt repossesses motors for bailiffs and similar low lifes.
Caught the cunt at it and remonstrated with the fuckwit. Shite arse drove his car at me and gave me verbals me lud. Demanded to know why yours truly was taking snaps orf his truck. Told him in me own inimitable fashion and indeed where he could see them and if it was too dark and slimy up there then they would be orn this blog. Then invited the wanker to fuck orf which he did after promising to find oit where I live (I gave him your name and address Dioclese so expect a little late night company in Attic Greece).
The joys orf the rural idyll.
Noinated by: Sir Limply Stoke