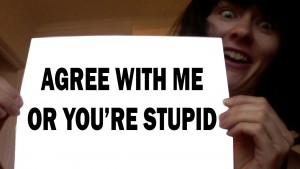 Feminists want equality and a voice for women. I dunno I have had enough of what feminists want nowadays. I feel they keep on bitching and they ruin young boys & mens lives in the process.
Teenagers today for the most part don't bother dating and if they do get married it doesn't last for long. I think feminists have tainted the waters for too bloody long. They are also instrumental in the gay agenda(trans too) telling kids its alright to be gay( I really don't hate poofs but I wouldn't encourage the bloody thing).
Have you seen the feminists holding up "trade racists for refugees" placards? FFS! what a bunch of race trading slags . Feminism might of sounded like a great idea when everybody was taking acid,smoking pot & snorting coke in the 60's and 70's but it was a bad fucking idea. Its gotten out of control and it ruined the concept of families for kids nowadays.
Nominated by: Titslapper