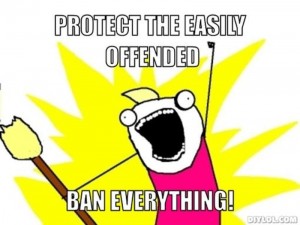 The Perpetually Offended deserve a severe cunting.
I don't know if these cunts have always been with us, but they seem to be fucking everywhere at the moment. Every-fucking-thing from the smallest council decision to foreign policy is evidence of "racism" or "Islamophobia" or "somethingism." The latest shit these cretins are complaining about is that asking people to wear wristbands is equivalent to Nazi bloody Germany. Aaaaargh!!!!
When I was on a cruise, I had to wear a lanyard with an ID card so I could be charged for drinks,etc.
When I was looking at booking a weekend at Centerparcs, I noticed you can wear a cashless wristband.
In most campsites in Australia, you have to wear a wristband so only paying guests can use the swimming pool and other facilities.
Did I complain about any of this? No. Perhaps I should have contacted some shyster lawyer to whine about my human rights being violated.
I'm pretty fucking sure that some cunts only read the news so they can be offended by something. If you go looking for "racism" or "Islamo-cunting-phobia" you will always find it, whether it exists or not.
I sometimes feel my mind falling into a bottomless pit of despair and hopelessness.
Nominated by: Cunt's Mate Cunt