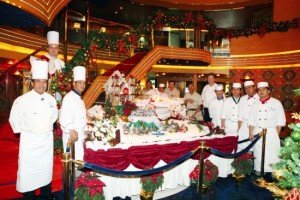 Chefs at Xmas. They'll all be at it soon -kitchens that look like a grotto, a dozen friends and the token black everything perfect with Bing or Nat singing in the background and to complete the merriment a seasonal cook book, available at all good book retailers, or your local charity shop boxing day, or poundland -buy one get ten free- come Easter.
Never do a good recipe for reindeer stuffed with assorted Santa and Elf sweetmeats do they?
Oh fucking joy unbound.
Cunts.
Nominated by: King Cunt