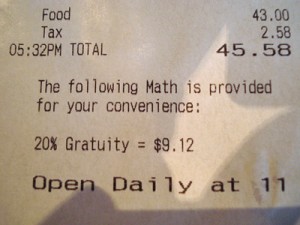 Automatic tipping is a cunt. Got a taxi the other day, fucking non English speaking paki as per fucking usual, car falling to bits and smelled like 3 week old kipper vindaloo, not only did the cunt not know my hotel ( big hotel ) he couldn't even use the GPS he had or the radio to call dispatch for assistance. He took the millionaire option and phoned a friend and eventually we got there. Did he expect a tip? Yes he most certainly did and was very specific about it too, suddenly the cunt decided he did speak English after all; "You give 15%, I no go wrong way " So the cunt expected a tip because he didn't try to fuck me? Fuck off you cunt!
I have no objection to giving a good tip if I receive good service, but it has to be fucking good. Simply doing an OK job isn't good enough. If you want a good tip, here it is; learn to fucking type you lazy cunt!
Nominated by: Fat Rich

I do a lot of cruising and it really gets up my nose when they add $10 per person per day 'optional gratuity' to my bill 'for my convenience'. That's a fucking lot of money on a three week trip!!!
I've never been embarrassed to ask them to remove it – sometimes several times before it actually happens! Include it in the upfront price and stop taking me for a cunt, you cunts!
Nominated by: Dioclese