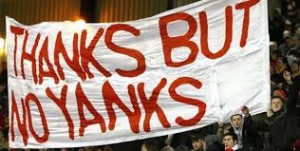 Don't get me started on those fucking Yanks!
Gotta love the fact they have a World Series (Baseball) but as far as I know it is only for US & Canadian teams, fucking cunts.
And they always go on about VIP's (very important player) and Hall Of Famers.
The US are the biggest shower of cunts on the planet
Nominated by: Boaby

Some Yanks are alright – but not the ones who start up their cars by remote control under my bedroom window at 5:15 am and then fuck off back inside to finish their coffee while the engine warms up.
The cunts don't even live here. They work at the local airbase and rent our houses thereby pricing the locals out of the market
Why can't they just fuck off back to their own country? If they behaved like that back home, some cunt would shoot them…
Nominated by: Dioclese