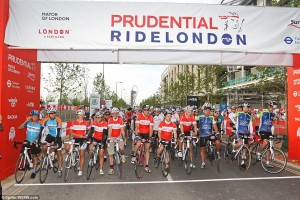 The Prudential Bike Ride is an absolute CUNT!
This morning I am meant to be taking the mother in law to the cemetary in Gunnersbury to pay her respects on the anniversary of her husbands death, followed by a visit to her favourite fishmonger, pets at home and B & Q to get some plants to cheer her up.
But no.
Instead I am a prisoner in my own home due to the entirety of West London being gridlocked because a bunch of lycra clad Scania fodder need the A4, the hammersmith flyover, the Cromwell road and the A316 closed off so that they can wiggle their arses at the cunt behind in a procession of maximum cuntishness.
Already had one head on collision on our road where an impatient cunt decided to drive on the wrong side to try and turn right….straight into another car.
Prudential can go and fuck their collective mums with their AIDS riddled micropenises if they think they will ever get my business after this fucking fiasco.
And I hope the cyclists headbutt an oncoming HGV.
FUCK YOU. FUCK ALL OF YOU, YOU BUNCH OF STD INFECTED VAGINAS!!!
I HOPE YOU ALL DIE SCREAMING!!!
Nominated by: Odins Balls