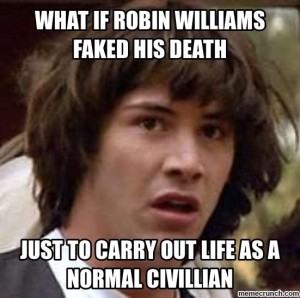 Awoke to an outpouring of simpering eulogies; greatest man that ever lived; a light has gone out in the world ect etc. Fuck me, Mother Teresa must have been born again, had the change and died again. But not so, turns out the airwaves have turned the colour of liquid shite on account orf that hairy little cunt Robin Williams. The alleged actor/comedian jasper has topped himself and not had the grace to post the video on YouTube therebye depriving the world of seeing the cunt actually do something funny for the first time in his life.
Bugger me it goes on and on. Obama is at it now showering brain dead drool and cuddly toys all over Robin Williams:
"Robin Williams was an airman, a doctor, a genie, a nanny, a president, a professor, a bangarang Peter Pan, a hairy paedo, a cunt and everything in between. But he was one of a kind. He arrived in our lives as an alien – but he ended up touching every element of the human spirit,"
Obama should be cunted for that PR release puke speak alone. Reaching out to touch the sicko soul of the American people with fake empathy. He does have form but it takes a strong stomach to retain one's whiskey and devilled kidneys in the reading of the cunts numerous other examples – Michael Jackson, Shirley Temple, Lena Horne, Pete Seeger and so on.
Nominated by: Sir Limply Stoke
All Americans should be cunted again for the tsunami of sentimental bullshit in response to RW's suicide. It's like they only get emotional about Hollywood fictions – no mention of the man, just endless fucking banalities about the characters he played and what they meant to the American people. Surely I can't be the only person who thought Robin Williams was one of the unfunniest men on the planet, along with Steve Martin and Billy Connolly?
Nominated by: Fred West
I quite liked Robin Williams' films, but for fuck's sake let's get it in perspective. The man could not walk on water, could not call lightning down from the sky, could not part the ocean, and could not bring peace to the middle east. Obama thinks he can do all these things, but Williams couldn't.
I think he was highly entertaining but the sun definitely did not shine out of his arsehole even if Stephen Fry would have liked it to.
And no cunt had him in the dead pool either…
Nominated by: Dioclese