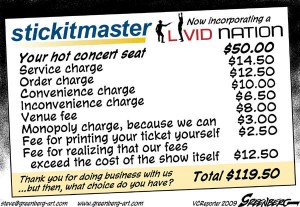 So it's a right game in Glasgow. Commonwealth Games website overwhelmed by "unexpected demand". Punters wasting hours trying to get on the site then unable to get tickets. Punters trying to book on the phone getting engaged tone then finding they have been billed £100 for the privilege. Sound familiar? London Olympics? You are not wrong. Same yank shower running the show? Correct. Ticketmaster.
The London tossers were apparently obliged to use the yank cunts because they have some rolling sweet heart deal stitched up with the world governing body. Land the Olympics then you have to use Ticketmaster to flog yer tickets. Not so Glasgow so why use the proven masters orf the fuckup? I smell dodgy jockeys and the big fix. Lay odds that there is plenty of cash in large brown envelopes circulating in certain circles in Glasgow.
They may have acquired a virtual monopoly on mass spectator events but once again Ticketmaster are revealed as incompetent cunts.
Nominated by: Sir Limply Stoke