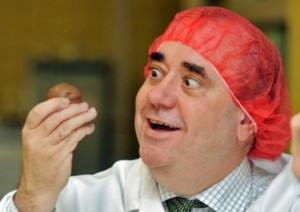 Alex Salmond – cunt of McCunts. Not just for his peculiarly nauseating, clamouring desperation to take the throne of Scottish power, but for the cuntish way in which he exploits xenophobic and dated racial hatred in order to score political points against "the enemy".
The smarmy desperate cunt then pontificates about "Scotland's place in Europe" as if leaving one old system of oppression to join another, newer one that's even more centralised will be a cure for all of Scotland's ills.
Fuck off you ugly fucking McMunter and pull that haggis out of your fat arse.
Nominated by: Amy Turding