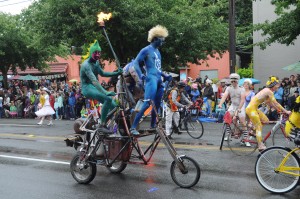 Cyclists are all cunts – especially the "club rider" cyclists, who think that riding 6 abreast down narrow roads, thereby holding up the traffic, or weaving in and out of stationary cars who are stuck at busy road junctions and scratching paint or banging into wing mirrors is part of the highway code.
They build cycle lanes for these cunts, and said cunts ignore them, preferring instead to piss off other road users with their antics.
I won't even start on their ludicrous avacado shape helmets..
Nominated by: Toadspanker
Cyclists are all cunts. They arrogantly ride around on their victorian toys in the mistaken belief that they are "saving the planet"
Actually, all they're doing is adding to the sum of human misery by not paying fucking road tax,riding on pavements, ignoring traffic lights and signs and putting everybody at risk from their stupid cavorting.
Just fuck off you healthy cunts !!
Nominated by: Anonymous