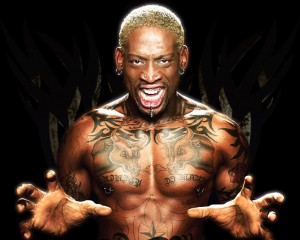 At 6' 8", I nominate ex-American Netball player, Dennis Rodman, as the world's tallest cunt.
This waste of a penis reckons he can save the world from World War III by inserting his thick head up the arse of another cunt, the Supreme Leader of North Korea; Kim Jong [C]Un[t].
How is Rodman going to save us? Well, on or about, January 8th, (the little fat cunt's 31st birthday) he's going to organise a netball match in Ping-y-Pong between some of his fellow has-beens and the Korean Netball team. Quite how this is going to save us has gone right over my head; but I have a constructive alternative.
Two of the biggest cunts in the world will be in the same place, at the same time, watching netball in Ping-y-Pong. So, President Obama (I'm getting greedy: a third cunt), why don't you give your drone controllers a break from killing women and children, Google where Korea is and send one over to Ping-y-Pong.
Then, you can get rid of two turds with one drone – geddit?
Nominated by : Bolton Boy