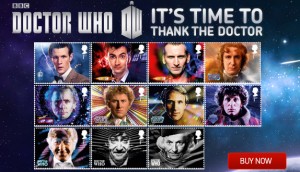 Dr Who – Time Travelling Tosser
Have always regarded Dr Who as a bucket of toss done on the cheap. Only excuse for it. Crap effects, crap actors, crap scripts, wobbly sets and invariably the same fucking gravel pit outside location.
Now with a mega budget spearheading the BBC's 'original drama' output and swollowing up most of the licence payer's hard earned that should be going to fund genuine 'original drama'. Dr Who has slid up the jacksie of the BBC to be preened, petted and oiled in the camp corridors of power and emerged as an ironic, post modernist my darlings, bucket of toss.
Despite tottering into the age of CGI the ancient old cunt is still produced with crap effects, crap actors, crap scripts etc, etc, etc because that is the only way the campos at the BBC can do things. And avoiding endless plugs for the fucking programme is like trying to hide a pair of wank stained long johns at a vicarage. You can't get away from 'em.
Dr Who? Dr Cunt, that's who.
Nominated by: Sir Limply Stoke
( …and you can even buy commemorative stamps FFS! Ed. )