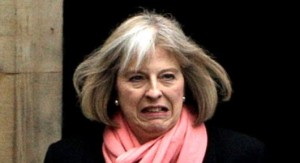 No one's cunted that hideous and ugly multiple Jimmy Choo wearing slap headed syrup wearing cunt Theresa 'we're no longer the nasty party' May anywhere.
She is the most inept and useless entity since John Major.
What purpose does she serve? Fuck all from what I can see. They must have some real hillbilly retards in Maidenhead in Berkshire where she's the local MP. Fucking dickwads.
Nominated by: Hurling Dervish