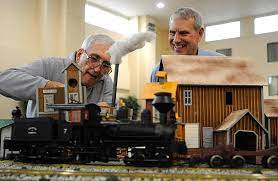 Men who play with trains.
Id like to nominate model train enthusiasm.
Ive always been deeply suspicious of grown men playing with toy choo choos.
Its harmless I suppose but cuntish in the extreme.
Thousands spent on Hornby,
Huge set outs of countryside and villages.
My uncle did this, in his loft he set out a massive trainset,
admittedly a lot of skilled work,
Attention to detail, and a labour of love.
Hed glow with pride, but you couldn't touch anything!
And as a 10yr old kid I remember thinking
"You silly cunt".
Pete Waterman is one of these cranks, when not committing crimes against music Pete likes nothing better than playing with children's toys.
Some say harmless hobby
Some say hanging offence.
You decide.
Nominated by: Miserable northern cunt