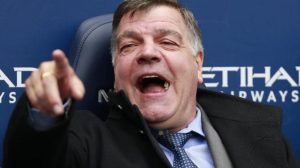 I already tried to cunt Allardyce when he was first appointed.
My points were basically these. What qualifications does the fat, useless cunt have to be the national team manager? Has he managed at the highest club level? No. Was he a highly respected player who's played at the highest level? No. Has he managed clubs who've had regular European competition thus exposing him to experience outside of the domestic leagues? No. Has be regularly managed big ego players at the height of their careers and molded them into winning teams? No.
So again, what exactly are his qualifications? It just goes to show how far the national football team has regressed such that this industrial strength 'com on lads get stook in will ya' gets a shot at England manager. If you thought Hodgson was bad, he was merely the appetiser for clown Allardyce.
The national embarrassment continues.
Nominated by: Imitation Yank
There's been some interesting bs on the BBC Sport website about This twat saying he can't tell Wayne Rooney where to play. And there was me thinking that was his (ludicrously well-paid) job.
Here's a thought, he could say "Listen to me, you useless, fat, wiggy, Scouse cunt. Fucking play where I tell you to play or I'll have you out of the team faster than you can open your wallet when a 70-year-old prossie comes into view. You cunt."
Just a thought.
Nominated by: Cunt's Mate Cunt