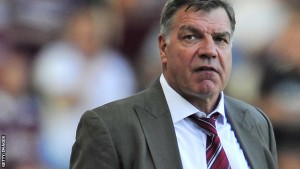 Sam Allardyce is a cunt.
Now I am more than a little frustrated at how Man United are playing right now (mostly shite!), but I have seen far worse (Dave Sexton and 86-89 Fergie, for a start!). But for Fat Sam to moan about United using long ball tactics?! When it comes to exciting and attacking football, Allardyce is hardly Cesar Luis Menotti, Rinus Michels or Tommy Docherty himself.
Fat Sam has always had the delusion that he is a 'Big Name Manager' – except he has won fuck all, whereas Van Gaal has won the lot in his time… He has inherited a sack of shit at Old Trafford though. Only those two porn barons (Gold and Sullivan) at 'West Aiiiiim' would see Allardyce as a managerial catch. Dodgy customers attract other dodgy customers (I remember Panorama).
So fuck off, Sam!
Nominated by: Norman