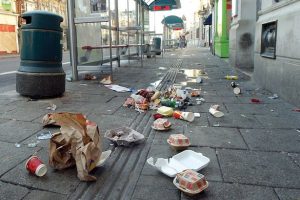 I'd like a quick rant about the feckless Cunts who are too fucking lazy to take their fucking litter home with them.
I live in a rural area,but we get more than our share off tourists.I went out this morning to find one of the horses chewing on a plastic bag which contained some half-eaten sandwiches and empty plastic pop bottles. The cunts had obviously had their picnic,and on the way home,decided to wind the window down,and chuck their rubbish over the nearest hedge.
Who the fuck comes out to the country and decides to spoil it by dumping their rubbish? It can't be that hard to put it in their bin when they get home. It's typical of a country which seems to have lost all self-respect,manners and common decency.
I swear if I ever pick up any rubbish which has an address on it,some cunt'll get a visit from an extremely irate old cunt.
Nominated by Dick Fiddler