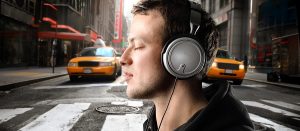 I have great hopes for the future of our nation when I see brain dead morons of a certain age wandering down the street wearing headphones.
The other day I was driving along minding my own business when some idiot in cans walked straight out in front of me. I slammed the brakes on and leant on the horn and managed to miss him – but he was totally oblivious to his surroundings and leaning on the horn was a complete waste of time. Now I like a bit of Led Zep at full volume, but I've got more sense than to cross the street wearing cans.
And how about those cans? Personally I use earphones with my iPod – when not walking down the street or crossing the road – but what's it with these fucking great cans? I asked a snowflake what it was all about. Apparently it's a fashion statement. When you pay £300 for a set of cans (what sort of cunt pays £300 for headphones anyway ???) you need to be seen to be wearing them. So that people know you're important. And cool. And presumably financially as well as mentally challenged.
So next time you're riding down the street on your £2,000 carbon fibre bike, remember to plug your £1,000 iPhone in to your £300 cans so people will know just how cool you are when they scrape your remains off the road.
Yes, I am greatly optimistic about the future of this country – because with luck we'll finish off a few of the feckless brain dead fuckers before they can do too much damage! Or reproduce.
Cunts in cans. Darwin would be proud…
Nominated by Dioclese