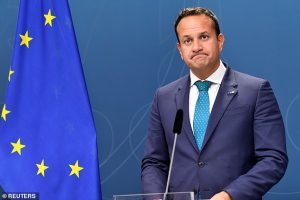 A Napoleon complex shamrock sized begorrah cunting for tinpot dictator, Irish t-shirt Leo Varadkar.
This self aggrandising little shit has decided that Ireland can never accept Boris' reheated May 2.0 supplication treaty without even bothering to study it properly. Now it might be crock of shit similar to a chromium plated turd, but who the fuck does this little cunt think he is to tell the UK that we don't want to leave the EU and should ignore the referendum result?
Varadkar is enjoying his five minutes of fame on the world stage, bigging himself up unable to accept that he's just the PM of some sparcely populated ag-lab backwater that the EU is using as a political tool.
Hopefully after Halloween nobody will give a shit. Frankly, I don't give a shit anyway…
Nominated by Dioclese