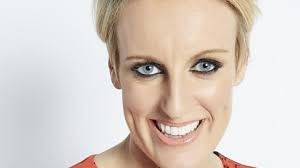 I would like to nominate The Steph Show.
This, according to channel 4, 'will be a mix of entertainment, lifestyle and light current affairs as Steph meets a variety of guests from the worlds of showbiz, politics and beyond. Steph will be joined by a different, well-known co-host each week for a lively look at the topics of the day, as well as consumer affairs, fun features and lots of interaction with the viewers – all filmed in front of a live audience.'
Translation : a programme all about wimminz issues and digs at Boris, Brexit and Trump.
In a way I suppose, this is a pre-cunting, since it hasn't even been shown on tv yet, but given that it will be on channel 4 and will be presented by the arrogant loudmouthed, shovel-faced Steph McGovern (who is having a baby with her girlfriend, in case you didn't already know), it is almost certainly going to be an absolute pile of wank.
Nominated by Mystic Maven