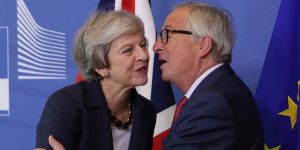 Yet another cunting for May, if she survives the week.
Has any politician ever been so out of their depth? Ever?
She took on an already fucked up Home Office and managed to make it worse. Some feat.
She called an election where she went round saying 'strong and stable' like a twitchy, wooden robot and managed to make Corbyn and his band of nasty, incompetent, Marxist, Anti-Semites look credible.
She used craven appeasement as a negotiating tactic with the gnomes of Brussels.
She tried to sell N Ireland down the river before twigging that the DUP wouldn't wear it. Thus looking completely stupid.
Last week Raab had to go to Brussels to 'unagree' some ridiculous legally binding appeasement negotiated by her chosen incompetent Whitehall Remoaner Oliver. Which she will have rubber stamped.
And she has achieved the seemingly impossible. After 2 years hard graft, and at the eleventh hour, every fucker, of all political hues and opinions on the EU, without exception are opposed to the silly cow. How the fuck is that possible?
Truly cunt of the decade. She should win the Chamberlain prize for her utter inability to negotiate or inspire.
Nominated by Cuntstable Cuntbubble